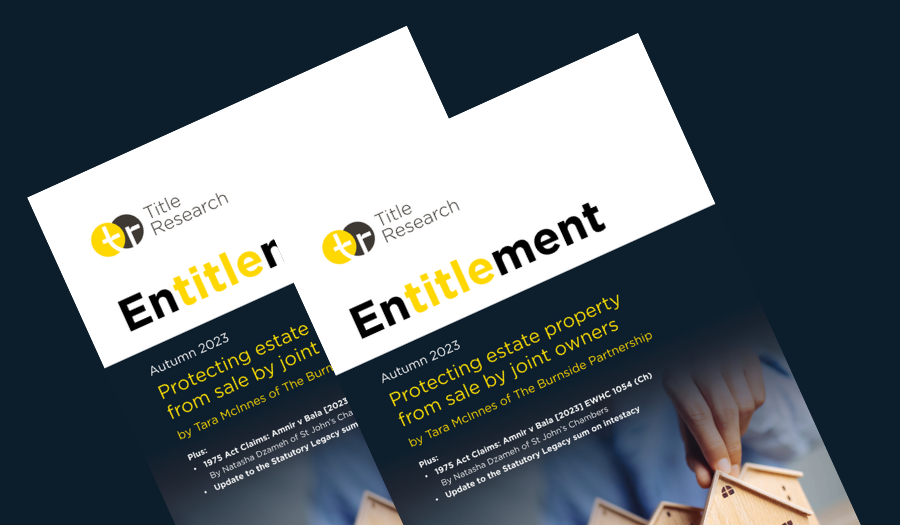 The autumn 2023 edition of Title Research's news digest, Entitlement, is now available and features the following articles:
'Protecting estate property from sale by joint owners'. Tara McInnes, Partner within the Contentious Wills and Estates Team at The Burnside Partnership, discusses a topic that often causes confusion for legal professionals and their clients: protecting estate property from sale by joint owners, including the options available to advisers and clients to prevent such a situation from occurring.

'1975 Act Claims: Amnir v Bala [2023] EWHC 1054 (Ch) – is the net estate enough?'. Natasha Dzameh, Commercial and Chancery
Barrister & Mediator at St John's Chambers, reviews the decision of the High Court in a matter involving competing claims where the net estate was insufficient. More specifically, the article focuses on the interesting case of Amnir v Bala [2023] EWHC 1054 (Ch).

'Update to the Statutory Legacy sum on intestacy'. We summarise the Statutory Legacy sum update on intestacy, explaining why the sum has increased, how the new sum has been calculated, and the key points that legal professionals should be aware of.


Click here to download your free copy of Entitlement.
Topics: Entitlement, Inheritance, Case study, Property