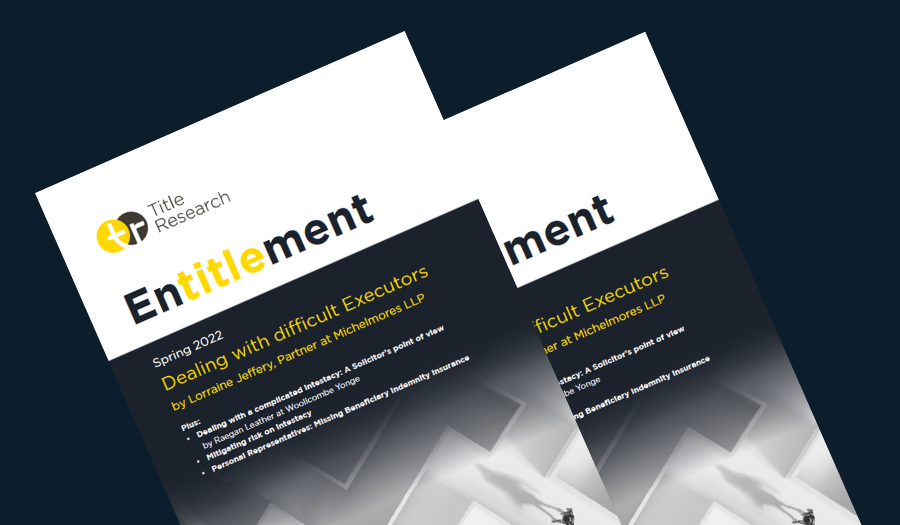 The spring 2022 edition of Title Research's news digest, Entitlement, is now available and features the following articles:
'Dealing with difficult Executors'. Lorraine Jeffery, Partner at Michelmores LLP, discusses the topic of dealing with difficult Executors who cause the administration of an estate to grind to a halt. More specifically, Lorraine covers the warning signs that a removal application may be on the cards, the tools at a beneficiary's disposal, and the costs involved.

'Dealing with a complicated intestacy: A Solicitor's point of view'. Raegan Leather, Associate Solicitor and Head of Wills, Trusts, and Probate at Woollcombe Yonge, reveals the current details of an ongoing, complicated intestacy case at her firm and provides insight into the process from a Solicitor's point of view.

'Mitigating risk on intestacy'. We explore the steps that can be taken to protect Personal Representatives.

'Protecting Personal Representatives: Missing Beneficiary Indemnity Insurance'. We also cover the different types, costs, and insurers' normal requirements when it comes to Missing Beneficiary Indemnity Insurance.


Click here to download your free copy of Entitlement.
Topics: Intestacy, Entitlement, Personal Representatives, Missing Beneficiary Insurance