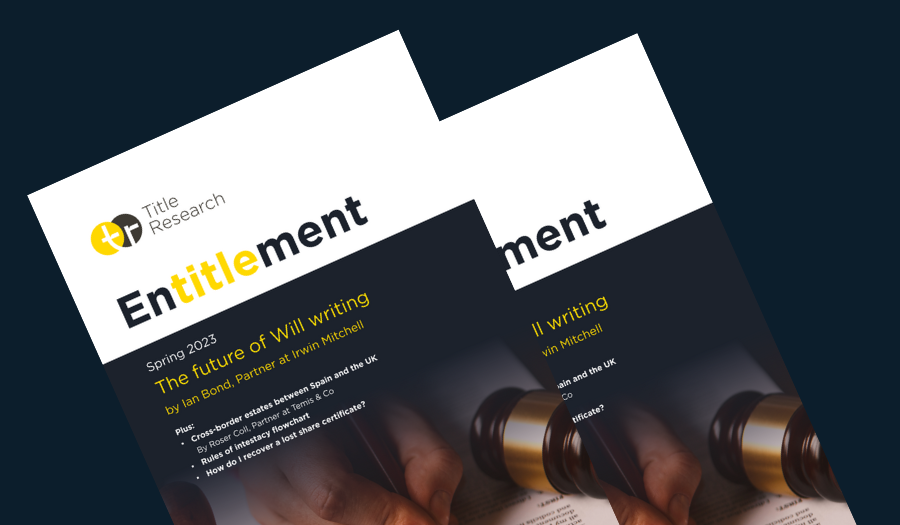 The spring 2023 edition of Title Research's news digest, Entitlement, is now available and features the following articles:
'The future of Will writing'. Ian Bond, Partner at Irwin Mitchell, debates the future of Will writing by discussing whether the industry should be regulated, the Law Commission's Will project, remote Will witnessing, predictions for change in the industry, and accounting for digital assets in Wills and estate planning.

'Cross-border estates between Spain and the UK'. Roser Coll, Partner at Temis & Co, provides a handy recap on cross-border estates between Spain and the UK. Roser touches on the rules of intestacy in Spain, explains what happens when someone passes away with no Will in the country, and discusses the relevant taxes.

'Rules of intestacy flowchart'. We lay out the order of priority upon intestacy in England and Wales, including an intestacy flowchart to demonstrate how heirs are established and distributed.

'How do I recover a lost share certificate?'. We provide an overview of how you can go about recovering/replacing lost share certificates and explain the Title Research services available to help simplify the process.


Click here to download your free copy of Entitlement.
Topics: Genealogical research, Intestacy, Entitlement, Wills