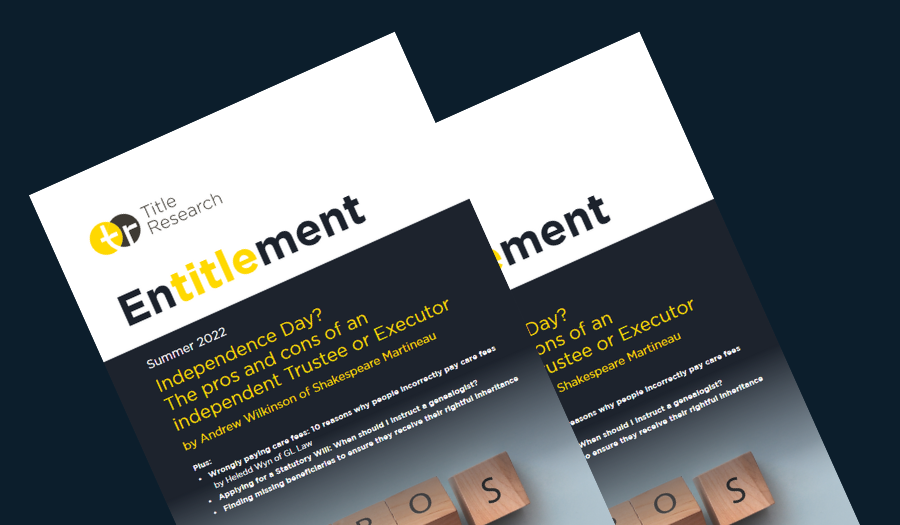 The summer 2022 edition of Title Research's news digest, Entitlement, is now available and features the following articles:
'Independence Day? The pros and cons of an independent Trustee or Executor'. Andrew Wilkinson, Partner and Head of Contentious Probate at Shakespeare Martineau, frequently acts as an independent Executor and Administrator on a variety of contested and non-contested estates and discusses the pros and cons of an independent Trustee or Executor.

'Wrongly paying care fees: 10 reasons why people incorrectly pay care fees'. Heledd Wyn, Director and Head of Private Client & Long-Term Care at GL Law, sets out the ten most common reasons people incorrectly pay care fees to help you better advise your clients during these conversations.

'Applying for a Statutory Will: When should I instruct a genealogist?'. We explore the Statutory Will application process, execution, risks, and who should be informed.

'Finding missing beneficiaries to ensure they receive their rightful inheritance'. We answer what a professional genealogist does and what to do if a missing beneficiary is unlocatable.


Click here to download your free copy of Entitlement.
Topics: Entitlement, Missing Beneficiaries, Personal Representatives, Statutory Wills