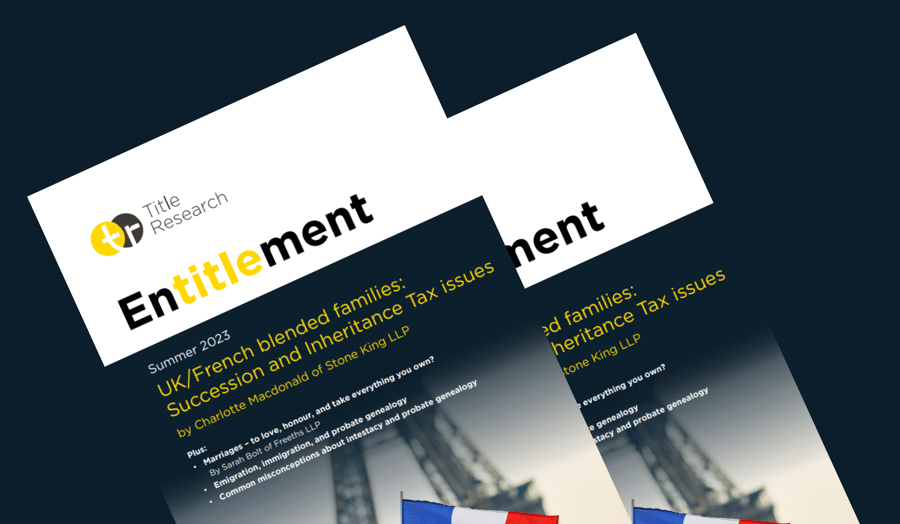 The summer 2023 edition of Title Research's news digest, Entitlement, is now available and features the following articles:
'UK/French blended families: Succession and Inheritance Tax issues'. Charlotte Macdonald, Senior Associate Solicitor in the International and Cross-Border Team at Stone King LLP, discusses the topic of blended families in the UK and France, covering succession and Inheritance Tax issues that professionals should be aware of.

'Marriages – to love, honour, and take everything you own?'. Sarah Bolt, Managing Associate at Freeths LLP, considers whether the law safeguards the most vulnerable from predatory marriages.

'Emigration, immigration, and probate genealogy'. Sam Jarvis, Case Manager at Title Research, explores the potential obstacles and solutions associated with emigration, immigration, and locating beneficiaries overseas.

'Common misconceptions about intestacy and probate genealogy'. We discuss adoption vs fostering, common law marriages, blended families, documenting events, and more.


Click here to download your free copy of Entitlement.
Topics: Genealogical research, Intestacy, Entitlement, Inheritance