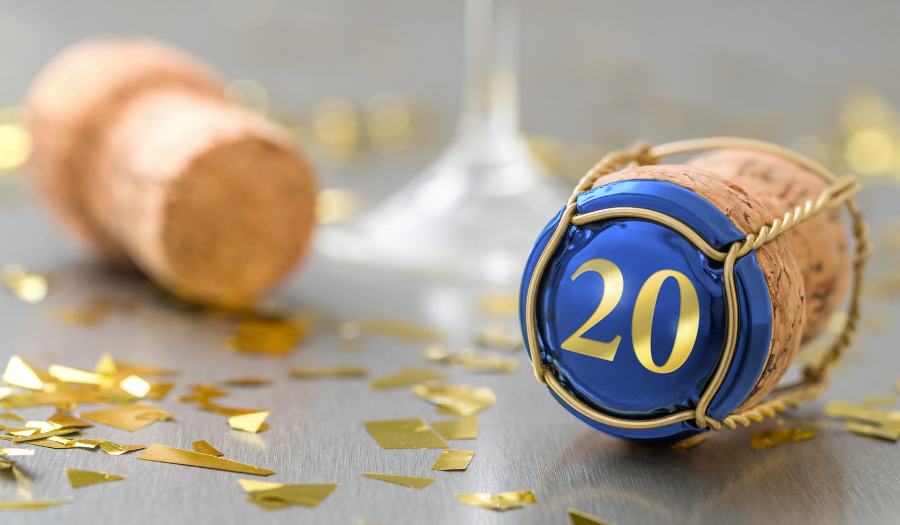 Here at Title Research, we've recently celebrated the 20-year milestone of our Technical Manager, Simon Barber. To mark the occasion, we interviewed Simon about his experience over the years, including the advice that he would give to an individual starting out in probate genealogy.


What attracted you to probate genealogy?
SB: 20 years ago, probate genealogy wasn't well known. In the early 2000s, it was an under-the-radar industry and wasn't in the public domain; there was no such thing as Heir Hunters on television. Because of this, it wasn't an industry that was known by anyone apart from Probate Lawyers – it was very different in how it was presented and considered.
I didn't know anything about probate genealogy until I started my career with Title Research. Before joining the company, I worked in an admin job within the education sector. I was bored in my role at the time and had been looking for several months. I remember spotting a vague job advertised in the newspaper and after attending an interview and learning more about what the job entailed, I felt the role fitted in perfectly with the type of work that I wanted to do; I studied History at university, and I particularly enjoyed the research side of things.


What type of work were you undertaking in the early days?
SB: I was initially hired as a Case Handler – a similar role to our current Case Manager position. I was assigned a portfolio of cases and was given the training to carry out the role. This included completing research, finding people, building family trees, and reporting back to clients. It was very academic in those days, and everything happened at a slower pace. Title Research didn't offer asset repatriation services until around five years after I had joined the business – it wasn't a thing back then.
In addition to our genealogical research services, we were starting to create the website Findmypast – in those days, it consisted of a computer in the corner of the office with an assigned individual. We were in the process of digitalising the records and transcribing them online, and this launched about nine months after I had joined. We were awarded the Queen's Award of Innovation for this and were given a unique scroll signed by both the late Queen Elizabeth II and the Prime Minister at the time, Tony Blair.


How has this type of work changed?
SB: Genealogical research was very laborious twenty years ago – it involved manually looking through lists of names from the birth, marriage, and death indices. We used to spend hours searching which took up a great deal of our time, meaning case progression took much longer. As you can imagine, common surnames such as Smith and Jones would be quite horrendous to trail through. There was a team whose job was to go through the records and write down lists of names we wanted to investigate. We were lucky that we went down the path of digitalising them. Nowadays, we enter the names into Ancestry and Findmypast and the results come up instantly – research has changed a lot, and this has made the turnover a lot quicker.
We also never had an electronic Family Historian package. On our long desks, we all had paper and scissors to draw out the family tree – if it got too messy, you had to cut bits out or redraw it all. It's very different to now, as back then, only one person could view the family tree at a time, and you were reliant on the handwriting of others being up to a readable standard. If you wanted to create one for the client, it had to be done in Excel, which would take a day or two to pull together. We are a lot more technologically advanced; we've pushed it to its limit with Findmypast and Family Historian, which we've customized to produce our reports and family trees, something that not everyone in the industry is doing.


What do you think people assume about this type of work?
SB: When you tell people about what you do, they assume that you are doing family history all day long which is far from the truth. We have always been more interested in the legal side of things as well as the essential information – when they were born, did they get married, and did they have children. We teach our people this as we are keen to take out the traits of a Family Historian and train in the essential legal stuff. In fact, some of the best Case Handlers that we've ever hired are the ones with no experience in genealogy.


How has the process of tracing missing beneficiaries developed over the last twenty years?
SB: There is much more information readily available now. Twenty years ago, the internet was fairly new – it wasn't quite there with how we use it nowadays. Additionally, social network sites have made people more connected around the world.
Data is much more detailed, meaning we can search for people easily without needing to leave the office to get it. We used to send members of the team down to the Probate Registry once a day, spending two or three hours in their reading room doing searches. The same searches are now conducted from their desks, and everything is a lot more streamlined. We very rarely need to send someone out to visit an archive, although this still may be needed if overseas research is required. In today's work, we may need to send someone to the British Library two or three times a year, in comparison to once a day years ago. The work behind it is still the same, but the legwork has gone.
How has the process of reconstructing family trees developed over the last twenty years?
SB: If you consider the late Queen Elizabeth II, an extreme example as she passed away at the age of 96, her parents were born in 1895 and 1900, and her grandparents another thirty or forty years prior. Twenty years ago, we were still working in the 19th century on Victorian research, where families were bigger than they are today. When conducting this research, and if they were born during a certain time period, we could almost guarantee that some would have died in World War I or II – we don't always need to go as far back in our research now. Perhaps in years to come, the global pandemic will affect genealogists due to there being a period when no one was able to get married; world events greatly affect our business.
It's a lot more complicated nowadays; people aren't marrying as often, and civil partnerships and same-sex marriages are now more common. If, for argument's sake, someone born in the 1980s dies, the family will be a lot more compact, but the family tree may branch out of the UK as people are now more mobile. You can't assume that someone didn't have any children because they weren't married. Social history is very important to us, and these trends need to be front of mind. The work that Title Research will carry out in fifty years will be a lot different from the work we are producing today – we are a very different society from what we will be in the years to come. Take civil partnerships as an example; those who entered a civil partnership when it was first legalized are largely still alive today. In 10 or 15 years when they start passing away, we will need to be more considerate – it hasn't really been a thing for us yet.
What is your greatest career achievement in your twenty years with Title Research so far?
SB: I would say having fulfilled many different job functions within the business – there aren't many roles that I haven't done. I've been a Case Handler, Researcher, Case Manager, Team Manager, and Head of Operations. I've also essentially done a sales and Business Development Manager role. Every five years or so, I've moved into a different role. This is something that I would highly recommend and advise everyone to do to avoid becoming bored and expand your skill set.
In terms of success, I would say managing the move of our office from London to Bath in 2014 was a great achievement for myself and the business. This happened when I was heading up operations – we managed to reconstruct the entire team, set up half of the team to work from home, and relocate members of the team to Bath from London. It was completely seamless, and we didn't experience a dip in sales, output, or quality. We only lost one individual from the operations team in four years – our team are very loyal to Title Research and stay for a long period of time; I believe they buy into what we do as a business.


What advice would you give to someone who is just starting in probate genealogy?
SB: Take it slow. We live in a world where we expect immediate results and although we do often get these, you still must be patient and try different methods of working. Also, think about the problem at hand – take a step back, don't rush, and find an alternative if your original method didn't work.
There are always various methods to get to the answer – this is always our response to clients when they ask why we didn't do our research in a particular way. We may give the same file to two different Case Managers who go about things in two completely different ways but will still get to the same answer – neither way is right or wrong, we just have our own approaches.


What advice would you give a legal professional who is considering outsourcing aspects of estate administration to a specialist such as Title Research?
SB: Ask the genealogist questions in the same way you would ask someone who is going to do work for you in your home – it's easy for other people to baffle you with grand claims. Make sure to ask the following questions: how long have you been doing this, are you insured (there are plenty who aren't), and do you obtain insurance at the end of your research? Unfortunately, we get so many enquiries from professionals who have sourced research elsewhere but ask us to obtain insurance. This often means we must fix the prior research, which is not the best way for us to build a relationship. Make sure the firm that you source is honest, transparent, and can give you the results you want.


If you're interested in finding out more about Title Research's specialist services in both asset repatriation and genealogical research, call our Client Services Team on +44 (0) 345 87 27 600 or email info@titleresearch.com.
Topics: Genealogical research, Family tree reconstruction, Missing Beneficiaries