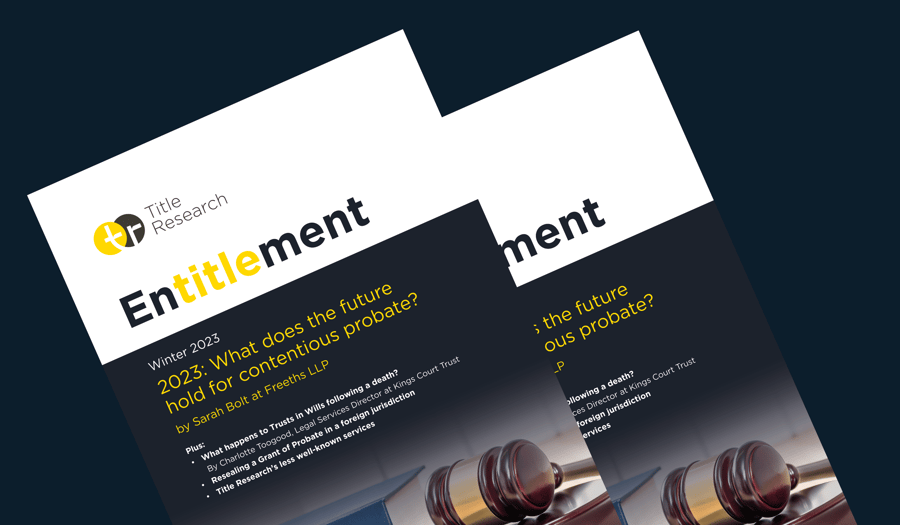 The winter 2023 edition of Title Research's news digest, Entitlement, is now available and features the following articles:
'2023: What does the future hold for contentious probate?'. Sarah Bolt, Managing Associate in the Private Client Dispute Resolution Team at Freeths LLP, discusses the future of contentious probate by sharing key trends from 2022 and the influencing factors to the rise in disputes.

'What happens to Trusts in Wills following a death?'. Charlotte Toogood, Legal Services Director at Kings Court Trust, provides an overview of Kings Court Trust's experience of working with Trusts in Wills upon death, specifically exploring Property Trusts, Nil Rate Band Discretionary Trusts, and Trusts for Minors.

'Resealing a Grant of Probate in a foreign jurisdiction'. We cover the topic of resealing a Grant of Probate in a foreign jurisdiction, including the countries that require a reseal and the required documentation for the process.

'Title Research's less well-known services'. We explain three of Title Research's less well-known service offerings: Dormant Balances, Will Bank Cleansing, and Historic Estates and Trusts.


Click here to download your free copy of Entitlement.
Topics: Entitlement, Trusts, Trustees, Contentious Probate